New construction home building has increased by twenty-two percent in recent months. One reason for this is a lack of inventory in the housing market. Another is that today's buyers want move-in ready homes. But designing and planning a new construction home can be daunting. It is easy to get lost in the thousands of details. If you are considering a new build, don't overlook these seven new home features.
7 NEW CONSTRUCTION HOME FEATURES
1. Cabinet Lighting
There are multiple decisions involved when choosing your kitchen cabinets: the color, the shape, the style and width, not to mention the endless choices for cabinet hardware. A must-have design element is cabinet lighting.
The right cabinet lighting can change the entire aesthetic of your kitchen for the better. Here's how:
Lights inside your glass cabinets make glassware twinkle and shine.
Under cabinet lights illuminate backsplashes and highlight kitchen details.
Bottom cabinet lights showcase your floors. In addition, they light a walkway for easy navigation through your kitchen. This is helpful at night, especially if you're foraging for a midnight snack.
Inside cabinet lighting makes it easier to find pots, pans, and dishes.
Sites like Home Depot and Walmart sell cabinet lighting to install on your own. Professionally installed lighting costs more, but the end result in a new construction home is better quality lighting and a more high-end look.
2. Heated Driveway
Winter makes driveways treacherous, especially if you live in New England. In fact, snowfall in Massachusetts averages 47 inches per year. Yet while snow creates beautiful winter wonderlands, heavy snowstorms means backbreaking driveway shoveling. Wouldn't it be nice to eliminate shoveling all together? Consider adding a heated driveway to melt the ice and snow. As a result, you eliminate shoveling all together. Prices for installing a heated driveway in your new build can range from around $1,500 to $7,500 dollars. While this may seem like costly, it is worth it when you consider long range benefits.
3. Mudroom with Cubbies in a New Construction Home
Many people underestimate the benefit of a good mudroom layout in their new construction home planning. Living through New England seasons means multiple jackets, shoes, hats, and gloves. As you plan your new home, don't forget to design a space to store everything. The last thing you want in your new build is a pile of clothes next to a tiny closet beside your front door.
Mudroom lockers, cubbies, or cabinets are a necessity and can be as simple as a few drawers or as complex as floor-to-ceiling locker-style cabinets. Take the time to think about your lifestyle and your space. Talk to your builder about creating a mudroom that will not only look beautiful, but will keep you super organized.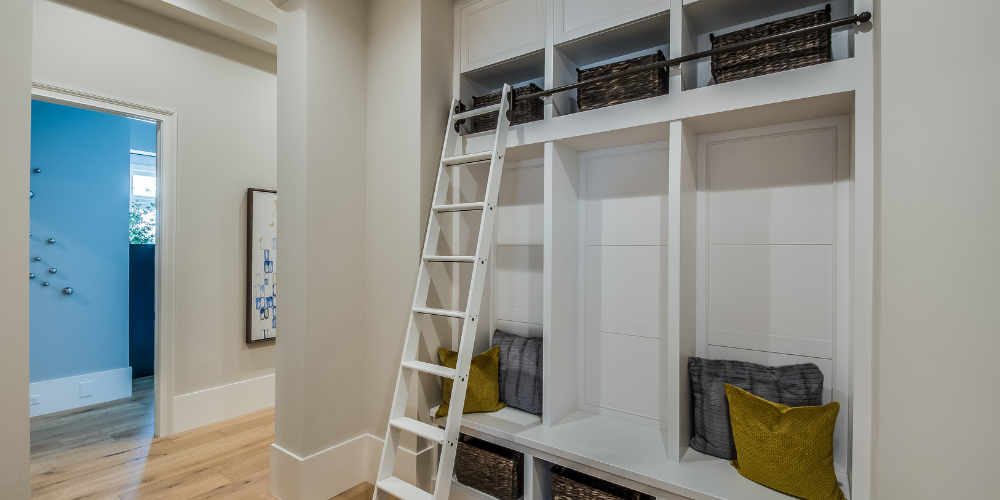 4. First-Floor Main Suite
First-floor main suites in new construction homes are in high demand. Today's buyers realize the many benefits involved with having a first floor bedroom. Here are just a few:
They provide privacy. This is especially true when additional bedrooms are located on another level.
They are ideal for homeowners who don't want to climb the stairs.
They allow for one-floor living, making it easy for homeowners to navigate from one room to another within their home.
5. Freestanding Tub
Bathrooms in many older homes typically have either a big shower or a smaller shower and tub duo. These oftentimes look outdated and bulky. Many new builds today feature freestanding tubs that are not only beautiful, but elevate the look of the bathroom. And beauty isn't the only thing they accomplish. They are a great way to relax. After all, there's nothing like a hot soak at the end of a long day. For families with young children, a freestanding tub makes it possible to incorporate a dream shower and still have tubby time with the little ones. Usually starting around $2,000 dollars, freestanding tubs are a great design investment.
6. Floor-to-Ceiling Fireplace
As mentioned above, winters in Massachusetts are brutally cold and long. One way to keep warm in the dead of winter is snuggling next to a fireplace. Even better, create a fireplace in your new build that has a floor-to-ceiling fireplace surround. It will warm you up and create a dramatic focal point that elevates your room. Different surround options include elements such as rock, stone, brick, and tile. Whatever you decide, choose an option that complements your lifestyle and your home's decor. Floor-to-ceiling fireplaces range in price depending on the materials. But, if you are looking for a wow factor, consider this eye-catching feature.
7. New Construction Homes with a Protruding Kitchen Island
Kitchens are the heart of a home. They serve as the main focal point for cooking, entertaining and gathering. A kitchen with a large island is ideal for preparing and serving food. It is also a great place to add extra seating for family and guests. Consider adding a protruding kitchen island to your design. This type of island allows more room for chairs and more space for people to eat and talk. Kitchen islands can change the whole look of your kitchen, tying together colors and pulling together the overall design elements of the room. While islands add costs to your new construction budget, splurging on one is an investment that will stand the test of time.
Contact Michelle Larnard Real Estate for listings and information on new construction homes in the South Shore real estate market. If you are in building your own new home, click below to download our free new construction home guide.